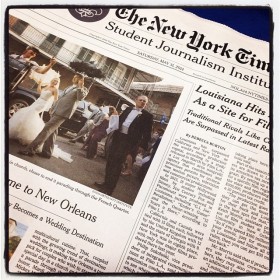 The New York Times Student Journalism Institute in New Orleans for 2014 is now concluded. We will resume next year in Tucson, Ariz. with a new set of students on campus at the University of Arizona and in partnership with NAHJ.
Please apply! Application deadline is Nov. 1, 2014.
The Institute extends a hearty thank you to Dillard University for its charming hospitality, our staff of volunteer journalists, Armando Montaño's family, our leader Don Hecker and most importantly our 2014 Institute graduates. It was a pleasure to work with each and every one of you.