AVERY ISLAND, La. — There's a guard shack at the end of the causeway leading to the plantation-like expanse of the McIlhenny Tabasco Brand Pepper Sauce empire here in the bayous. You pay a $1 toll, and the guard opens the gate.
Inside is a pleasant expanse of greenery, dominated by the plant where McIlhenny Company originated its famous hot sauce in 1868 and from where the product still claims a 19 percent share of the $1.1 billion market in what the industry formally calls "spicy sauce made from chili peppers."
But not all is as secure as the guarded and remote setting would indicate. McIlhenny, which has always dominated the business, sees intruders on the scene as hot sauce becomes more trendy. Walk down a supermarket aisle for the evidence. Next to the displays of McIlhenny's familiar green-capped bottle with its diamond seal are upstarts made by boutique competitors from all over the country, with catchy names like Slap Ya Mama, Pain is Good and Hillbilly Hot Sauce.
McIlhenny's Tabasco Brand Pepper Sauce is the Campbell's Tomato Soup of the realm. And in some quarters, that's not so fashionable.
"I think they're always going to be around, but they have true competition," said Jeff Grant, a tourist from West Linn, Ore., who was visiting a hot sauce tasting bar in New Orleans the other night. "If I have company over, I'm not going to put Tabasco on the table."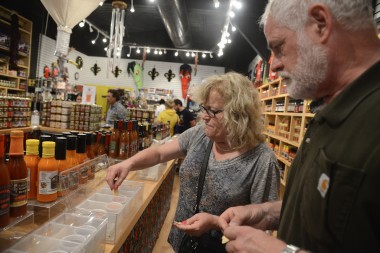 The fact that there are such things as hot-sauce tasting bars says a lot about the competition McIlhenny's branded Tabasco sauce has been facing as hot sauce finds its way into more kitchens and onto more tables.
At Pepper Palace in the French Quarter of New Orleans, the idea is simple: take a chip, try a sauce. Susan McNall, the owner, said she and her husband knew the business would be successful when they opened 25 years ago.
"I think people want to have flavor in their food, when you're bold enough to put it out there," she said.
Besides Tabasco, the other leading brands are Frank's RedHot, made by the Reckitt Benckiser conglomerate that owns the French's Foods brand; Huy Fong Foods, makers of the Sriracha Hot Chili Sauce; and Texas Pete, made by TW Garner Food. Together, the four brands comprise 38.9 percent of the hot sauce industry, according to IBISWorld, a market research group. But Tapatio, a family-owned brand, is beginning to gain market share. Dave's Gourmet is also seen as an up-and-coming "niche" sauce.
The report said the market has seen an annual growth rate of 3.6 percent over the past five years, which can be partly attributed to the rising immigrant population and diversifying tastes. In that five-year period, "both restaurants and supermarkets have adapted to their changing tastes by offering more ethnic cuisine options, many of which rely on hot sauce for their distinctive flavors," IBISWorld said, noting that growing Hispanic and Asian populations have "assisted this trend."
"Hot sauce producers were barely burned by the recession due to the industry's wide array of affordable products," the report said, calling hot sauce "an affordable luxury."
Christian Ortiz, the senior brand manager of Frank's RedHot, says his business does not worry about newcomers. "In order to keep us up to speed and on our toes, we welcome competition," Mr. Ortiz said.
Randy Clemens, a food writer and author of "The Sriracha Cookbook: 50"Rooster Sauce" Recipes that Pack a Punch," said many new hot sauce brands are boutique in nature, and not positioned for big market efforts. But sriracha, a generic hot sauce that contains chile peppers, sugar, and garlic, has been making such inroads into the market that McIlhenny now produces its own sriracha sauce, along with the familiar Tabasco.
"I think people expect them to all taste exactly the same," Mr. Clemens said of the various varieties. "They shouldn't expect that. I think if they want to get the original, get the original."
The original, of course, is the sauce made on the 2,200-acre Avery Island, where the company bottles its products and gives tours of its plant.
The family owned company is famously private, and a spokeswoman said that company officials were not immediately available for comment.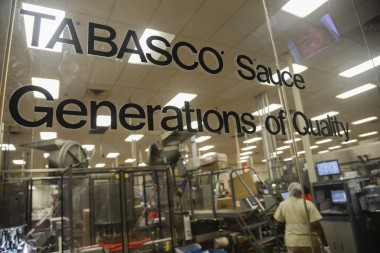 Competitors entering the market don't typically have an island to work from. Hot sauce is made from pungent peppers, and large-scale production can cause problems when neighbors complain about fumes. For example, nearby residents petitioned to shut down a sriracha factory operated by Huy Fong Foods in Irwindale, Calif., but a court said the plant could continue by using better air filters.
Whatever, hot sauce has avid fans. At the Pepper Palace tasting bar in New Orleans, Mr. Grant, the tourist from Oregon, said, "I love sriracha".
"I bought half a case of it so I wouldn't run out."
And whatever the competitive pressures, the hot sauce world still is centered here on Avery Island.
"If it weren't for Mr. McIlhenny, none of us would be where we are," Mrs. McNall said at her tasting shop in the French Quarter. "I'm glad he thought of the idea."