A banana-rum smoothie with Scotch-infused tapioca balls served in an old Victorian house. A roasted pig displayed on the altar of an abandoned church, and crawfish creole rice balls called callas with green onion dip cooked by a native Louisiana chef in a renovated arts space.
Those are some of the dishes served at pop-up dinners happening all over New Orleans, attracting local and visiting foodies eager to sample experimental cuisine in ornate and unusual locations made by chefs looking to mix up their menus.
"We've always liked to play with our foods," said Ann Marshall Thomas, the marketing coordinator for the New Orleans Tourism Marketing Corporation. "Pop-ups are a natural outgrowth of that."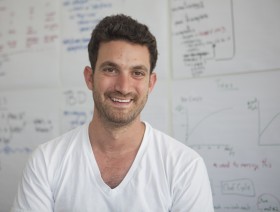 These impromptu supper clubs typically take over existing food establishments or vacant spaces for a night or two. The idea is to try new foods, meet new people and have an unforgettable experience. They are commonplace in major cities but new to New Orleans, a city already known for its great and historic restaurant culture. In the past few years, New Orleans has seen a smattering of food- and drink-inspired pop-ups.
Ms. Thomas said she promotes all pop-up dining events through social media and sees the events as another attraction of New Orleans.
"People get excited about them," Ms. Thomas said. "It feels exclusive."
For Brian Bordainick, who founded Dinner Lab, a membership-only dinner club, in 2011, pop-ups invigorated a limited late-night dining culture.
"In New Orleans you can drink all night, but you can't get great table service after a certain time," he said.
He started hosting sit-down dinners at midnight in obscure locales in New Orleans once a month. He invited local chefs to serve their creations. His events took off, and now he has 10,000 members and has expanded his lab to nine other cities nationwide. There is also a waiting list of international chefs who want to cook for his clientele.
"It's cool to bring different people together for the food," said Mr. Bordainick, 28. "The dinners are for people who are tired of eating with the same person every night."
Membership in the Dinner Lab in New Orleans costs $100 a year, and dinners at locations like the abandoned Felicity Church, where he served the roasted pig, cost an additional $55 to $60 per meal.
The cocktail pop-up Dash & Pony was started by three bartenders who wanted to make drinks that were more adventurous than the standard bar menu.
In 2012, Ali Mills, one of the founders, and two friends borrowed an old Victorian house in uptown New Orleans and offered five custom cocktails. Two years later, they've never offered the same drink twice and now invite guest mixologists to create their own impressive concoctions.
"Dash & Pony allows people to try new things and gives bartenders a forum to play," Ms. Mills, 29, said. "You can have a drink you wouldn't see on a menu anywhere else."
She recently invited chef Molly Martin from a restaurant in Nashville and served country-themed cocktails like a bright pink Mexicali Rose — Reposado tequila with rose petals and salt syrup. The event was held at an abandoned supermarket in Central City New Orleans.
Dash & Pony is a free event that accepts suggested donations, which are given to charity. As with Dinner Lab, planners do not advertise; the event grew organically from word-of-mouth recommendations and social media.
Mosquito Supper Club, one of New Orleans's newest dinner clubs, hosted its first event in late May at the Tigermen Den, a multi-use art space in the Bywater neighborhood of the Ninth Ward. It serves traditional Cajun fare "like my mama used to cook," said Melissa Martin, its founder, who is from Chauvin, La., and has lived in New Orleans for 18 years.
Unlike Dinner Lab and Dash & Pony, Ms. Martin's club will serve traditional Louisiana fare, and she plans to cook all the meals herself.
"I don't want anyone else cooking my grandmother's gumbo," she said.
Ms. Martin wants to offer visitors to New Orleans authentic, in-season meals from the region.
"When I travel, I want to eat what the locals eat," she said.
For their first dinner, Ms. Martin's husband helped her build custom wooden banquet tables, and her 14-year-old daughter helped make ice cream to accompany the blackberry dumplings. They opened the floor-to-ceiling shutters for a rustic ambiance. Ms. Martin's best friend helped serve the 30 guests who attended. Mosquito Supper Club plans to charge $60 per person. Guests bring their own beer. And again, it's all about the company you keep.
"When you go to a restaurant, you don't talk to the table next to you," Ms. Martin said. "Here you do. It's more like a wedding."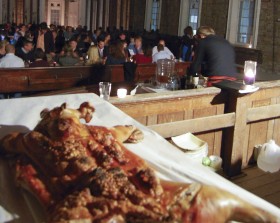 For some pop-up dinner clubs and chefs, the goal is to gauge the appeal of the restaurant idea before investing in a brick-and-mortar store.
Pizza Delicious started as a weekly pop-up. It served pies from an apartment kitchen before moving to a community one, where it serves patrons through a window. A Kickstarter campaign helped it raise the funds to open a full-sized restaurant in the Bywater neighborhood popular among locals. The two co-founders, Michael Friedman and Greg Augarten, are from New York City and wanted to make and sell authentic pizza.
Other restaurants that followed a similar trajectory are Milkfish, a Filipino restaurant in Mid-City, and Noodle & Pie, a creative ramen noodle house uptown.
Other pop-up proprietors have other entrepreneurial goals. Ms. Mills said she might create a book of all of the original drink recipes she has curated for Dash & Pony, the cocktail bar.
"I don't want to train a line cook," said Ms. Martin of the Mosquito Supper Club. "But if it's successful, maybe I'll take it on the road, to other cities."
For Mr. Bordainick of the Dinner Lab, the goal is to open a restaurant with some of his featured chefs, and Dinner Lab will provide the initial capital. Its office in downtown New Orleans looks as if it could be in San Francisco or downtown Manhattan. Exposed floors, white desks, a large window overlooking Oretha Castle Highway and 50-plus employees speak to its success.
Last year it generated $6 million in revenue, and to date it has done as much in 2014, according to Mr. Bordainick. That it started in New Orleans is a fact he is proud of.
"This is a company that can be anywhere," he said, "but we choose to be here."