As street musician Jack Parsons struck a final chord on his guitar, he looked out at his audience — about 100 health-care activists he'd been asked to entertain as they gathered outside New Orleans City Hall Thursday to lobby to expand Medicaid coverage.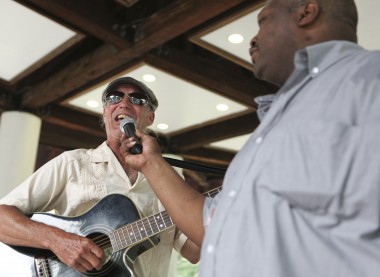 "It's all about health care, folks," Mr. Parsons, 60, said before launching into his own story: he'd fallen through the cracks after Hurricane Katrina, losing everything, including his health care. He told the crowd about his bouts of homelessness and how the state's current stance on medical care is  "leaving way too many people here out of the picture" — him included.
A city program, the Greater New Orleans Community Health Connection (GNOCHC), that might help Mr. Parsons and those like him could soon disappear. Funding for the program, a safety net for the city's poor, is expected to run out in August unless the state can provide $4 million immediately and $10 million annually for the next three years. Without that money, more than 53,000 low-income residents would be left without access to primary care and behavioral and mental health coverage.
"If our patients don't receive GNOCHC, a lot of them won't be able to receive regular Medicaid at all, and then they wouldn't be able to come to our clinic for free," said rally attendee Rhakeisha Pomfrey, 25, an executive assistant for the federally qualified health center, Health Care for the Homeless. "We lose out on money that would keep us open, and they lose out on insurance that helps them receive health care."
Promfrey and others gathered Thursday for the rally, which was organized by the National Health Care for the Homeless Council, a Nashville nonprofit that was holding its annual conference in New Orleans. She and others used the event to support the city's GNOCHC program.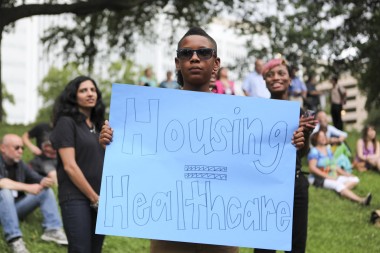 GNOCHC provides funding to a network of 18 community health clinics. Those clinics have 41  sites across Orleans, Jefferson, Plaquemines and St. Bernard parishes. To qualify for the program, residents must make less than $11,490 a year for a single person and $23,550 for a family of four.
The program, which supplements Medicaid, was established following Hurricane Katrina in an effort to supply the city's low-income with critical medical coverage.
New Orleans Director of Health Charlotte Parent, called the city initiative a bridge meant to carry those in need until Medicaid, the health insurance program for the poor, was expanded to cover more people. But Louisiana Governor Bobby Jindal recently decided not to approve that expansion.
That, Ms. Parent said, makes the city's low-income health program even more important.
"The people want it; the people should have access to it," she said, "and within the city of New Orleans we are going to do everything we can to make sure that happens, whether we get expansion or not."
One of the biggest champions in the fight for GNOCHC funding is Susan Todd, a member of 504HealthNet, a coalition of health clinic representatives. Ms. Todd said that if GNOCHC fails to receive the state funding it needs, it would be a nightmare. Thousands of people would lose access to the community clinics they use for their routine health -care needs. Instead, they would flood hospital waiting rooms, straining emergency care resources.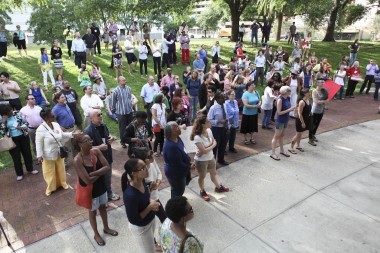 "If they get sick with the flu or tonsillitis and need to get tested, well, without access to a primary doctor, they will end up in the emergency room," Ms. Todd said. "That's not where they need to be. If an uninsured person goes to the emergency room and they can't afford it, that cost falls into taxpayers and the state."
That expense could cost the city an extra $26 million a year, her organization estimates, as well as increase the state's health-care costs by $59 million.
At the New Orleans Musician's Clinic Megan McStravick, a social worker who helps patients navigate their health coverage options, is also fighting to keep GNOCHC going. The Musician's Clinic provides primary care to musicians in New Orleans; more than 60 percent of its patients receive aid through GNOCHC.
"GNOCHC is the most important right now because our state didn't expand Medicaid, and these people have absolutely no access to any type of health coverage," Ms. McStravick said.
She was unsure whether Governor Jindal, who has final say on funding GNOCHC, will give the program the money it needs. Governor Jindal, a Republican, did not respond to requests for comment.