LAFITTE, La. — Lady Danielle, a shrimp boat, sat at the dock with a green net draped like a shawl across her gunnel. Her skipper, Julius Moll (Captain Cat), 67, walked off the dock and came back with a long green hose.
"I'm putting fresh water in," he said. "To cook."
Mr. Moll, a seasoned shrimper who has fished from Alabama to Texas, was preparing his boat of 20 years for a shrimping run in Barataria-Lafitte. Inshore shrimping season, determined by the Louisiana Wildlife and Fisheries Department, began May 26, a week later than last year's season.
Mr. Moll said he did not have a set schedule. He could be out shrimping for a day or even a week. It all depended on how much shrimp he could find, he said. And these days, that is difficult to predict.
"Business is bad," he said.
Other fishermen, taking a smoke break on the patio of C&M Bayou Fuel while their boats were being fueled, said the same.
Mr. Moll put out to sea four days later, hoping for the best.
Times are uncertain for shrimpers. The Gulf of Mexico-area shrimp harvest in the first quarter of 2014 is about 16 percent below historical averages, according to National Marine Fisheries Service data. In Louisiana, it showed that the catch in 2014 was 23 percent below historical averages.
The Louisiana historical average for the first quarter, calculated with figures from years 2007 through 2013, was about 3.1 million pounds. In 2014, the first-quarter figure was 2.4 million pounds.
Though the first-quarter catches are just a small portion of the total annual harvest, in the same period in 2012, the number was about 4.3 million pounds.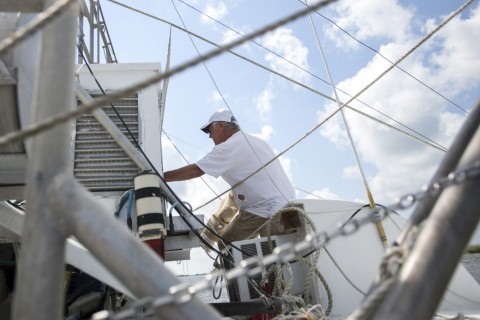 In 2010, shrimp harvest in Louisiana experienced a steep decline as a result of the Deepwater Horizon oil spill, said John Williams, executive director of the Southern Shrimp Alliance, an organization of 2,100 shrimp fishermen from eight southeastern states.
Because of the oil cleanup, "there was a closure from end of April for a few months," he said.
Patches of the shore are still closed off because of the 2010 oil spill, according to the shrimp season map from the Louisiana Department of Wildlife and Fisheries.
"What happened with the oil event displaced the market," said Harlon Pearce, the representative of commercial interests at the Gulf of Mexico Fishery Management Council. Fishing areas were closed off for cleanup, and the reputation of Gulf fish products suffered.
Since 2010, the annual average of shrimp harvest has been slowly recovering. However, Mr. Williams from the Southern Shrimp Alliance said that the number of shrimp catches fluctuates from year to year, making it difficult for fishermen to predict the supply or a lack of it.
"You really don't know from one year to the next," he said.
Another challenge that the shrimp industry faces is a decrease in the number of shrimp fishermen, said Mr. Williams, who was a shrimper for about 40 years. "It's hard to have a younger generation go into a job that is this hard," he said. "Shrimping is not an easy life. It's a struggle."
Out at sea, Mr. Moll knows that there are no guarantees in the shrimping business.
Two days after he left, Mr. Moll called from his boat. He said through static and sea wind that he had not had much luck so far. Asked when he thought he might be back, he said he did not know.
"I'll be out a couple more days," he said. "We'll see."