When Nicholas Tolliver graduated from high school, he skipped college and headed straight for the chemical plant.
Like many other Louisiana students who are looking to make big money in a short time, Mr. Tolliver, who is 27 and from New Roads, sought out employment in the oil and gas industry instead of enrolling at a college or university.
In 2005, Mr. Tolliver enrolled at a community college in Baton Rouge to take business classes. But after a conversation with a neighbor who said he could earn as much as $100,000 a year as an oil or gas technician, he transferred to a certification program to receive training for the industry.Movie Carol (2015)
"What sold me was the pay," Mr. Tolliver said. "There are not too many places that you make that much that young."
http://www.youtube.com/embed/4jUPZbbbc1Q?version=3&rel=1&fs=1&autohide=2&showsearch=0&showinfo=1&iv_load_policy=1&wmode=transparent
Louisiana is a region with a high demand for workers who can weld and work on oil rigs that are scattered along the Gulf Coast. Oil- and gas-related occupations are expected to grow as much as 22 percent by 2022, according to data from the Bureau of Labor Statistics, many of which require only a basic level of education and work experience or on-the-job training. New Orleans has seen growth in the demand for welders because of the continuing effort to rebuild the city after Hurricane Katrina, and because of new projects like a hospital corridor in downtown New Orleans.
The new construction has proved appealing for high school graduates who are interested in transitioning into high-paying jobs without a four-year college degree. Many of them are employed by the oil and petrochemical industries, which includes working at refineries and chemical plants, where jobs are plentiful and higher paying.
"Louisiana is in the midst of a huge economic and workforce development boom," said Quintin Taylor, the executive director of media at the Louisiana Community and Technical College System. "Companies are expanding or relocating to Louisiana for a number of different reasons, primarily because oil is a big business."
The State Education Department reports that just 28 percent of Louisiana's high school students continue their education after graduation. To improve those numbers, the Louisiana educational system has implemented programs that train students for careers in the technical and industrial fields.
The city has also supported education initiatives and certification programs for students who are interested in entering various industries that require an understanding of industrial or process technology, such as oil, gas, food production and chemical plants. Many of them allow students to take classes and receive their industry certificates simultaneously.
"Simply put, too few young adults in Louisiana have the skills and credentials to assume the high-wage jobs offered in today's Louisiana economy," said Barry Landry, a spokesman for the Louisiana Department of Education.
Mr. Landry pointed to a program called Jump Start, which allows students to take technical classes alongside their regular high school curriculum so that they graduate with degrees, ready to apply to jobs in demand for their region. Mr. Landry said it is the state's new program for "school districts, colleges and businesses to collaborate in providing career courses and workplace experiences to high school students, allowing them to continue their education after high school, certifying them for the career fields most likely to lead to high-wage jobs."
The lucrative career opportunities are also appealing to people whose professional pursuits do not pan out.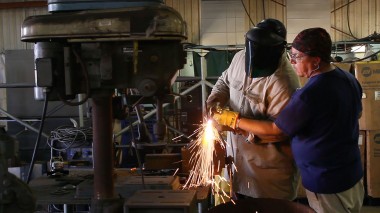 "We are getting a number of students that already have their four-year degree," said Thomas R. Warner, the chancellor of Nunez Community College, which offers industrial technical training. He said the school's enrollment is increasing due to its certification programs. "They know the jobs are out there and they are graduating in other areas that are great," he said, "but the jobs are not as promised as they are right now in process technology and welding."
Not all students who graduate from technical schools are guaranteed employment after graduation and for some of them, it does not become the lifelong career they may have envisioned.
Le'Ambra Alfred, 22, received a certificate in process technology in 2011, having trained to become an oil rig operator. Not long after, he obtained a job at a major oil company in Louisiana. The money was good, but the hours were long.
"Those are the negatives to the job," he said. "It also takes a while to move up and you have to know someone."
Mr. Alfred said he always worried about the long-term security of his job. The technical programs offer a "good degree if you plan on living in Louisiana or in the oil states for the rest of your life, but if you want to move to other areas, it may not be," he said.
Mr. Alfred is now pursuing a career in medicine at Grambling State University.
Michael Whetstone, an offshore field supervisor, has been in the industry for more than 40 years. He believes it can sustain students over the course of long and fruitful careers.
"This industry isn't built for everyone, everyone can't do this work, but you never really get laid off," he said. "If something slows down in one sector, you can move and do something else. There is a lot of diversity."