GRETNA, La. — As I walk onto the grass field at Gretna Park, about 15 minutes outside of New Orleans, I am greeted by rugby player Seyi Aiyegbusi.
The jovial Nigerian's British accent favors Simon Cowell, but his build is that of a linebacker. He quickly introduces me to his teammates in the New Orleans Rugby Football Club. They are gathering on the field — the pitch, in rugby-speak — for their last practice before the USA Rugby Division I National Championship game in Madison, Wis., on Saturday.
They are all set to start when the ominous gray clouds that have been looming overhead unleash a torrential downpour, sending almost everyone scrambling to the locker room.
Chance Doyle, a man easily twice my size, strolls back to the locker room. Feeling like I need to prove myself, I hang back with him. It is a decision my new beige blazer regrets.
But I don't.
We talk about beer, fat guys and helping inner-city boys. We also talk rugby. I played in high school, so I hold my own in the conversation; it turns out Doyle is a good friend of my former coach.
As we walk into the locker room, a large man with glasses yanks me into his chest for a handshake. His gray hair suggests that he's 75, but his grips suggests he just turned 25. He is Mike Kerrigan, the team's president and chief fundraiser.
Ironically, in a sport with little marketability in America, the team often has no problem raising money. Their boosters are the "Old Boys," a network of former players over 35.
The team refers to the Old Boys as their crazy uncles — they're more like guardian angels. The team set out to raise $20,000 a week ago, and the Old Boys helped the club meet its goal within five days.
I'm curious to find out why these men — many of them busy students, construction workers and lawyers — prefer to spend their after-hours running around on a field wearing short shorts with 30 other hairy guys.
Chris Beacher, a 6-foot-4-inch giant who started playing while in the Army, calls rugby an addiction. It helps relieve the stress of work and family life.
About 15 minutes after the downpour began, the players start practice amid a steady drizzle. The tempo is fast-paced. To many Americans, rugby is like football's younger, rowdier brother. To the untrained eye, I imagine it looks something like a mix between the movie "300" and an orgy.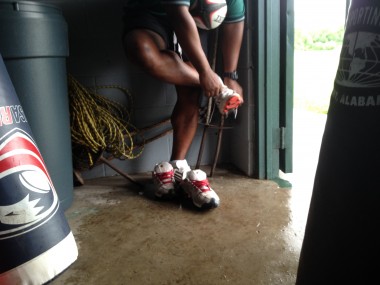 After practice, the team huddles to say its final words before Saturday's Division I championship — the first time they've played at this level.
"We got this," their coach says.
I hastily stroll through a cloud of flying termites to ask team captain Jarrett Falcon what's going through his mind just 48 hours before the game.
"The best part about a big game," Falcon says,"is that it's just a game."
As we chat, a termite meanders over his collar and underneath his shirt. I cringe. He stares.
He's unphased, but that's what has made his team so good. In their own rugged way, they project that classic New Orleans cool that produced jazz legends like Louis Armstrong and Wynton Marsalis.
"We don't get star struck," Falcon says.
The team is heading to the Rugby Pub, where they often decompress. Falcon invites me to share a few brews. He says this is how they do things in New Orleans: "You smash a guy in the mouth, and then go invite him to eat with you."
He goes into a shed to flip a light switch. Night engulfs the field.
"Soon we'll be champions," he says, before glancing over at me. "If you stick around the city long enough, maybe you can be a part of this."
It has been so many years since I last played that I feel like one of the Old Boys. But my hours with the New Orleans Rugby Football Club has rekindled an old passion.
Maybe I'll go dig out the old cleats.