When Raymond Weber, a New Orleans drummer, is on stage, he cannot stop thinking about his music. When he is off stage, he cannot stop thinking about his growing pile of medical bills.
Mr. Weber, 47, has diabetes and high blood pressure, and he is uninsured.  His insulin pills can cost more than $300 a month, and his three blood pressure medications run $390 a month. The new health care plan Mr. Weber qualifies for under the Affordable Care Act would strangle his already tight budget, and he said he could not afford another high monthly bill.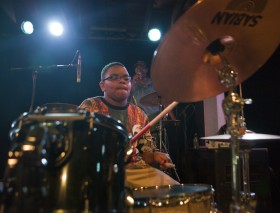 "It's real expensive," he said. "If it was $200 a month, I could afford that. Not $400!"
Times were not always so tough for Mr. Weber, who has played in New Orleans for over 40 years. He has toured with greats such as New Orleans pianist and guitarist Malcolm John Rebennack Jr., more often called Dr. John. But now, the occasional live show is harder to come across and often does not pay enough to support his wife and three sons, who also play instruments.
"I'm trying to work as hard as I can," Mr. Weber said. "I'm taking every gig, even the kids' parties."
Mr. Weber's case is not unique. In 2012, musicians in New Orleans made $17,800 on average, according to a recent report from Sweet Home New Orleans, a nonprofit organization that helps local musicians.
In the birthplace of jazz, life for musicians following their passion pays very little and comes without health benefits. And in many cases, national health care initiatives have only aggravated their struggles.
The Affordable Care Act, which requires all Americans to purchase health care, has pushed thousands of musicians like Mr. Weber into the so-called sacrifice zone. People inhabiting this area make too much money to qualify for Medicaid in Louisiana but not enough to afford a coverage plan under the new national mandates.
But the coup de grace for these struggling artists came when Gov. Bobby Jindal refused to accept legislation to expand Medicaid coverage to low-income citizens. He said that the cost of the expansion — nearly $2 billion over 10 years — was too high.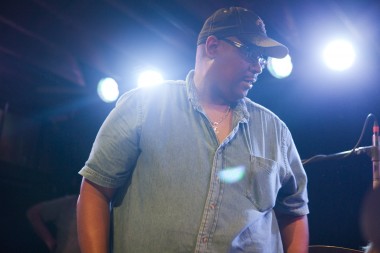 Councilwoman LaToya Cantrell of New Orleans, who is in favor of expanding Medicaid, has fought incessantly against Governor Jindal, a Republican, to bring medical coverage to more than 240,000 eligible residents, including thousands of local entertainers.
"Musicians are the heartbeat of this city," said Ms. Cantrell, a Democrat. "The rejection of the Medicaid expansion feels like a rejection of the needs of those human beings and the needs of their families."
The refusal, she said, could also stunt the city's economy, which thrives largely in part because of its music.
In 2012, entertainment in Louisiana generated more than $395 million in gross sales, and it attracted nearly four million people to festivals, according to the Mayor's Office of Cultural Economy.
Many of the medical facilities available to musicians are struggling to sustain themselves under the state's new budgetary constraints.
The nonprofit New Orleans Musicians' Clinic, which provides musicians like Mr. Weber with free primary care services, is no longer reimbursed for some of the care it provides. And now, for the first time since it opened 16 years ago, it is functioning at a $500,000 deficit.
"The rejection affects the poorest of the poor, and unfortunately, that sometimes includes musicians," said Erica Dudas, managing director of the New Orleans Musicians Assistance Foundation, which provides aid to the Musicians' Clinic. She estimates that as many as 80 percent of the clinic's patients fall into the sacrifice zone.
Bethany Bultman, the founder and president of the New Orleans Musicians' Clinic, said that despite the deficit, the clinic would continue to serve its patients.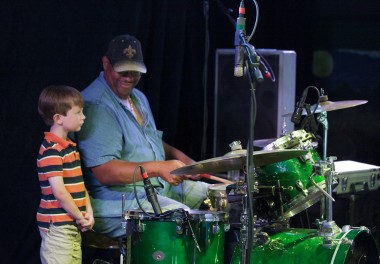 "We are not going to say, 'Too bad, we're not getting reimbursed, so you can't come to our clinic,' " said Ms. Bultman, who sees each of her patients as a cultural icon. "Every one of our 2,500 patients is as valuable as Louis Armstrong," and each of them deserves medical care if they need it, she said.
To that effect, the Musicians' Clinic is helping some of its clientele navigate, negotiate and become covered under the Affordable Care Act, which Ms. Bultman calls an "honest-to-God life saver," for helping some of the clinic's sicker patients get health coverage despite their pre-existent conditions.
During a recent visit at the Musicians' Clinic, Mr. Weber looked at the door as the nurse practitioner opened it, her hands full of papers. She passed him a sheet with the results of his most recent A1C test, which showed how well he was managing his diabetes. She smiled. This time his blood sugar, which normally measures a dangerous 10 or 11 percent, came in at a much safer level, 7.3 percent — his best result in years.
"I've got to frame this," he said. "If it wasn't for the Musicians' Clinic, I'd be in shambles. Without this place, a lot of us musicians would probably be dead."
As he left the clinician's office and walked past walls lined with photographs of jazz legends who have been treated there, Mr. Weber began to prepare for his next gig, a workshop for children.
Mr. Weber took the stage under the white lights in Tipitina's music club, where the pianist Professor Longhair played out his final years. The venue was filled with the smooth tunes of the saxophone and the beats of his 12-year-old son's percussion. He looked completely focused as he raised his microphone and prepared for the conductor's cue: "Back to the music."