From breakdancers to buskers, there are a lot of sights that turn heads in the neon glare of Bourbon Street.
Elvis and Rocky, for example, are two.
Elvis and Rocky are horses, members of the New Orleans Police Department's Mounted Unit, a contingent of 27 horses and up to 22 officers whose job is to help control crowds in the riotous clamor of the French Quarter and Bourbon Street. They also act as a kind of police-community liaison, because people in general like the sight of a horse and pay attention to a person on that horse.
"There's not a whole lot we cannot do on horseback," said Sgt. Joey Catalanotto, the unit commander. Of course, a police officer on a horse does have limits. "The only thing we wouldn't recommend is getting into a chase with a vehicle on an open street."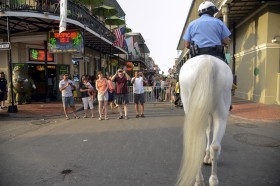 Police officers on horseback used to be a common sight on American city streets, but many places have cut back or even ended mounted patrols for budget reasons.
Bourbon Street, where thousands of revelers on foot course along the strip every night, presents a unique crowd-control challenge. And an officer on a horse is one of the keys to doing it well, the police say.
"There is no other agency dealing with the amount of people that we are in that small area," Sergeant Catalanotto said.
Meet some of the horses: Bud, Dakota, Emily and Cody. Cody's rider is Officer Patrick Schneider, a nearly 20-year veteran of the New Orleans Police Department and a member of the mounted unit for about 18 years.
At 6 feet tall, Officer Schneider can already see above most in the crowd, but when he is on the back of Cody, the only people above his line of sight are partygoers on balconies.
One of the nightly routines is clearing away the street performers who are not legally permitted after 8 p.m. Most know the routine and pack up promptly, but Officer Schneider said he's warned one character in a dingy yellow SpongeBob costume more than half a dozen times.
Ryan Peyroux, a bartender for six years at Lafitte's Blacksmith Shop, said the police presence meant the bar staff did not have to handle rowdy patrons alone. Once he saw a mounted officer go after a purse-snatcher.
"The horse got right on the sidewalk in a crowded area and brought him to a dead stop," Mr. Peyroux said.
The most common infractions are less dramatic — mostly cases of public drunkenness, the occasional fight or people urinating on the street, said Officer Schneider.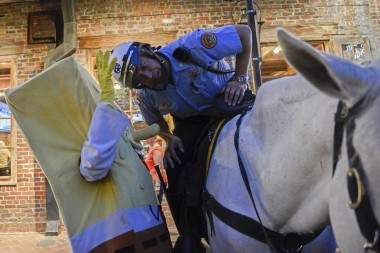 The department encourages officers to let people pet the horses and take pictures, an offer almost everyone accepts– boomers celebrating birthdays, bachelorettes before their wedding, families with children.
"What's his name?" "How tall is he?" "How old is he?" are the most common questions Officer Schneider receives.
"They don't even notice you," Officer Schneider said of the tourists. "You're just speaking for the horse."
The Police Department's herd are bred and trained by prisoners at the Louisiana State Penitentiary. Most are a cross between thoroughbreds, the quintessential racehorse, and a Percheron draft. The mix yields a large animal: several in the herd stand 18 hands tall or about 6 feet tall at the shoulder.
The horses arrive already trained, but officers themselves do not need equestrian experience to join the unit. Officer Schneider had never been on a horse before he mounted up. But he and every other mounted officer had to pass a rigorous three-week certification.
The passing rate for certification has been less than 50 percent since Sergeant Catalanotto started in the mounted division, he said.
Once certified, an officer works with a single horse almost exclusively, barring one partner getting sick or injured. The riders learn their horse's idiosyncrasies, whether it is an aversion to garbage trucks or a preference for following the leader of the herd.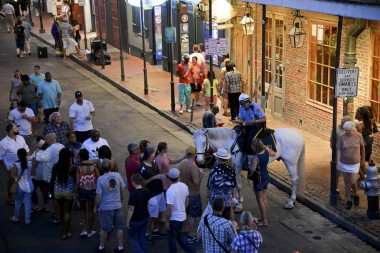 "We've got to be smart about what we do and forget about the whole macho-ism of 'my horse can do this.' If he can't do it, he can't do it. That's the way it is; he's an animal," said Sergeant Catalanotto.
Stoic old hands like Cody are chosen to lead the formations. On Bourbon Street, Cody is unperturbed by noises and sights, whether it is a motorcycle revving or strands of beads falling from above.
New Orleans's mounted unit did not have such a dedicated assignment when it was established in 1925. At that time, the mounted officers were more mascots than muscle.
Prof. Mitchel Roth, who teaches criminal justice at Sam Houston State University, in Huntsville, Texas, has studied the role of mounted police horses. He said they fill an important dual role — enforcers of the law, but also approachable community figures.
"A policeman sitting in a car is kind of a sinister presence, and they've got the guns and you worry they might react to you knocking on the window," Mr. Roth explained.
Sergeant Catalanotto added that horses are good for community relations. "If you've got a kid, put him up there and let them take a picture," he said. "You know, maybe he might grow up to go 'Hey, the police are really not that bad.'"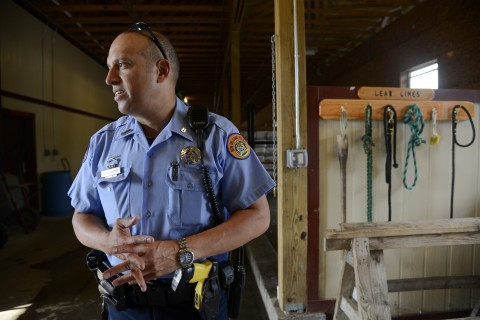 Despite their unique abilities, mounted units have been reduced or dissolved in many cities — including San Diego and Boston. New York City, of course, has maintained a large mounted police force.
"It's kind of a rollercoaster. When times are good in the police business you see more mounted units," said Jim Barrett, a former mounted officer from Ventura County, Calif. "When budgets get tight like in 2008, several long-standing units in California went away."
In contrast, support for the New Orleans Mounted Unit comes from a variety of sources including the department budget, grants and donations. A new $1 million stable in City Park is a temporary home for the unit while their original barn, which was damaged during Hurricane Katrina, is being refurbished.
The project also includes a new administrative building, whose boundary has already been marked by wooden posts. A couple million dollars from the Federal Emergency Management Agency helped fund the projects.
"We have a brand new facility. When a lot of people are disbanding, we're going to have a brand new administrative complex," Sergeant Catalanotto said.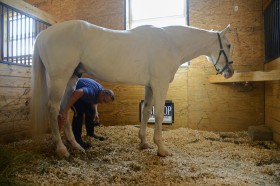 New Orleans Mounted Unit also relies on a few more creative solutions for funding. Like a proud parent, Officer Schneider showed off pictures of Cody as a younger horse with Jimmy Buffett.
Unbeknown to the singer, the New Orleans Margaritaville restaurant bought Cody and donated him to the department.