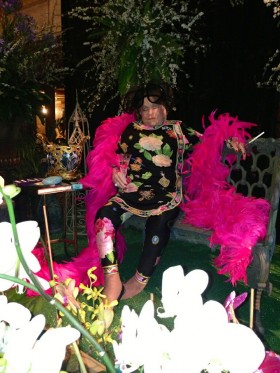 The socialite Mary Cathryn Easterling, known as Mickey, lived a flamboyant life and she expected an equally fabulous funeral.
She got one.
Ms. Easterling had no intention of being reposed in a casket. Instead, she instructed her kin and her friends that she intended to go out looking like herself — and she meant that literally.
Ms. Easterling, 83, died on April 14. On April 22, much of New Orleans society turned out for her funeral, which was billed as a party, at the Saenger Theater on Canal Street downtown.
And here is where the flamboyance came in: She had been embalmed and was displayed not in repose, but sitting regally upright on a decorative wrought-iron bench in the ornate theater as if she were still the queen of the social scene. And in her own way, she was. More than 1,000 friends, including local celebrities, were on hand to bid her farewell and toast her life with $100 bottles of Champagne.
Presiding over her final party, Ms. Easterling wore on her bodice a brooch that spelled out "BITCH," a favorite joke of hers. She was draped in a boa — fuchsia — to match her lipstick. There was a cigarette dangling from one hand and a wineglass (half full) positioned in the other.
"My mother loved attention," Nanci Easterling, Ms. Easterling's daughter, said the other day explaining the spectacular funeral. It reverberated through a city where celebrations of death are already renowned from the long tradition of jazz funeral marches.
During the service, Ms. Easterling's favorite food from Galatoire's, a famous French Quarter restaurant, was served to the multitude assembled at the Saenger, a 1927 movie palace damaged by Hurricane Katrina that reopened last year after a $52 million renovation. Ms. Easterling helped underwrite the project.
"She played a big role in the reopening of the theater," the daughter said. "She was very generous."
Though the Easterling funeral generated a lot of talk and publicity because of the unconventional way the body was displayed, it was not the first such funeral in New Orleans. Two years ago, the body of the jazz musician Lionel Batiste was embalmed and displayed standing casually against a lamppost as mourners filed past. Mr. Batiste's children had decided he should go out on his feet, mourners said at the time.
While the Easterling and Batiste funerals received a lot of attention, wakes with a corpse on display in a life-like position seem to be something unusual — even in New Orleans.
"Ms. Easterling's memorial service was extremely rare," said Thomas J. Schoen, a funeral director at Schoen Funeral Home, which handled the service. "She was a very social and eccentric woman." Patrick M. Schoen, the manager of the funeral home, worked with the Easterling family on the details and said he had organized showy funerals but nothing quite like that.
"It was really a celebration of life," he said.
Bobby J. Ducote, another funeral director at Schoen, said the traditional funeral is changing in general and that Ms. Easterling's may be a model for others.
"Her service was a personalization," he said. "We were glad to be a part of it. As funeral directors, we serve the family to the best of our abilities. This is the beginning of many more services like that."