Long before HBO taught America about a New Orleans neighborhood called Tremé, it was beloved by locals for giving birth to jazz in Louis Armstrong Park.
The park, ripped apart during Hurricane Katrina, has once again become a cornerstone of the community, thanks largely in part to the efforts of Emanuel Lain and Ben Harwood, an unlikely pair who lobbied relentlessly to resurrect the space.
Mr. Lain, 43, a tall African-American from New Orleans, remembers graduating from high school in the auditorium nestled inside the park.
Mr. Harwood, 31, who is white and from Detroit, came to New Orleans through a joint program of the Harvard University Department of Urban Planning and Design and the Shell Oil Company. When he completed his fellowship, he decided to stay and moved to a home near the park. They met by chance when Mr. Lain was surveying residents in Tremé about rehabilitating Louis Armstrong Park, which had been chained up after Katrina and remained closed.
"When I knocked on Ben's door, I was shocked to find a shirtless little Jewish man in front of me," Mr. Lain said.
Mr. Harwood gave Mr. Lain tips on how to improve his surveying efforts, and although Mr. Lain was skeptical at first, he grew to trust him.
"He's like a brother to me now," Mr. Lain said.
In 2010, the two men founded an organization called People United for Armstrong Park, or PUFAP, which rallied the community to support making park restoration and reopening a city priority. Armstrong reopened in November 2011.
Once they succeeded, though, they thought, "Now what?"
Music seemed like the obvious answer.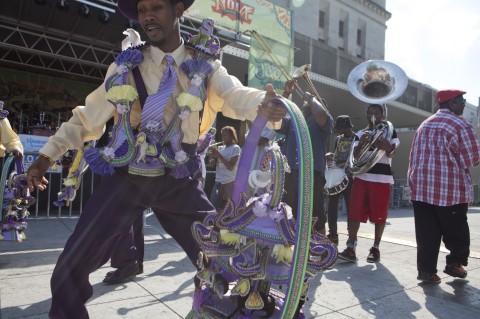 The pair introduced a series called Jazz in the Park, a bumping party that has been taking place on Thursdays for the past two years. It features local jazz acts like the trumpeter Kermit Ruffins and James Andrews, who is known locally as the "Satchmo of the Ghetto."
During a recent concert, a crowd of black, brown, white, young and old faces gathered in the park with lawn chairs and blankets to set up on the grass. As the music played, people danced and sipped beer while they enjoyed the tunes.
"It's beautiful, and way better than before," said Karen Deshazo, who has lived in Tremé for 14 years, as she sat in the park watching the evening's performances.
Each show costs approximately $11,000 to put on, and with nine shows each season, Mr. Harwood and Mr. Lain needed money and employees. Donations from local businesses like NOLA Brewery, booth rentals and "begging for money from everywhere," Mr. Lain said, helped cover the costs.
To resolve the staffing issue, however, Mr. Lain and Mr. Harwood decided to take a less conventional path.
In 2012 they applied for a grant from the city to employ high-risk individuals. They received $10,000 from Mayor Mitchell Landrieu as part of the NOLA for Life initiative, a program that seeks to tackle New Orleans's high crime and recidivism rates holistically.
The program emphasizes job opportunities, particularly for at-risk locals and ex-convicts who struggle to re-enter the workforce and mainstream society after serving prison sentences.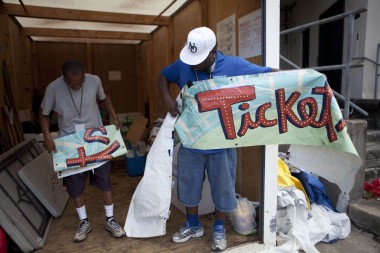 This made it a perfect fit for PUFAP, which now employs and trains people with criminal backgrounds in event production — a skill set that can be invaluable in a carnival city like New Orleans. Mr. Lain and Mr. Harwood believed that hiring people in the neighborhood could create trickle-down social benefits with a long-lasting impact.
It gave the community "a sense of ownership in the park," Mr. Harwood said.
"They'll watch over it now," he added.
Kenneth Jones is one of the people that Mr. Lain and Mr. Harwood hired using the money from their grant. He brought in his friend James Williams, and Mr. Williams told his friend Willie Carruth about the program. All have criminal records and have collectively served more than 20 years in prison. That makes finding traditional employment difficult.
"I'm so grateful," said Mr. Carruth of his work in the park. He realizes that second chances are rare.
Every Thursday, in 10-hour shifts, the three men unload equipment, set up chairs and police barriers, and carry lights to the stage.
Mr. Carruth, 47, is small in stature, but flexes his muscles every chance he gets. Mr. Jones, 48, has a wooly gray beard that pokes out from under his white baseball cap, and Mr. Williams, 42, has perfect teeth that he loves to share with a smile.
For a recent show, Mr. Carruth, Mr. Jones and Mr. Williams worked under the hot Louisiana sun to set up for the afternoon's concert featuring the Nola Cherry Bombs and two other acts. They all echoed Mr. Carruth's sentiment of gratitude.
Both Mr. Lain and Mr. Harwood stressed that their mission is "to make Armstrong Park the hub of the city's cultural economy."
From the looks of it, they are succeeding.