Blood and patches of flesh covered the tiny frame of an infant found dead in her crib by her parents in the New Orleans metropolitan area. Hundreds of rat bites pocked her skin, and blood loss was determined as the cause of death.
Nearly five years later, the New Orleans Mosquito, Termite and Rodent Control Board which is responsible for monitoring and controlling rodents does not know how many rodents live in the city, nor does it have a comprehensive picture of all the health afflictions that vermin transmit to humans.
Claudia Riegel, director of the control board, disputes the claim that the city has one of the largest rat populations in the United States.
But, she said, their facility in the Ninth Ward was destroyed by Hurricane Katrina in 2005, so comparative numbers are not available. "We started record-keeping again after Katrina. Everything is electronic now," she said. "We don't have the pre-Katrina numbers or assessments."
The rodents continue to grossly affect lives and property. In the Lower Ninth Ward, one local leader lives amid a breeding ground for rats. From his porch, Ronald Lewis, 62, can see lots filled with grass taller than the abandoned houses next door. A checkerboard of houses and spiking green lots dominate the area.
"If you don't be careful, they'll be living with you," said Mr. Lewis, who is the museum director of the House of Dance & Feathers. "It's like a five-star hotel for pests."
The New Orleans city government offers an open web database to view all recorded city municipal code violations and the Code Enforcement Department provides a similar mapping system, BlightStatus. While the data is public information, the control board does not disclose the addresses of residents with rodent harborage.
"We're pretty transparent, very transparent actually," Dr. Riegel said. "You can see all of the educational programs we do."
These programs encourage cleanliness and promote house repairs to prevent rodent infestations.
In a home on the Westbank, three large rat traps are installed onto the floorboards of an attic by a veteran of the rodent-control industry. Charles Parker, owner of Parker Wildlife Control, climbed a ladder into a dark attic on a house call. Sometime before visiting, he had sprinkled a circle of baby powder on the attic floorboards, with liquid rodent bait in the center. The powder allowed him to monitor critter tracks.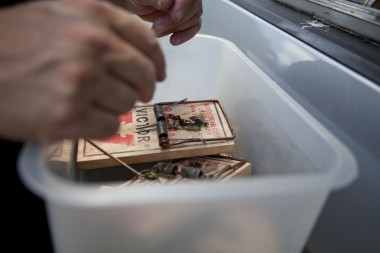 Mr. Parker, who is also vice president of the National Wildlife Control Operators Association, found tiny rodent tracks in the dust. His hunch was right: the homeowner's efforts were not successful. In a corner is a bright yellow box of d-CON tilted on its side and nearly half a dozen flipped glue boards — too small to get the job done. For $385, Mr. Parker will stop the squeaking sounds coming from the attic.
"They try everything, then they get frustrated and call me," he said.
While rodents are a public health concern, they have kept him in business for 15 years. He notes people often forget about the sensitive side of rodent extermination. "A lot of the time they are alive when I come back. It's kind of inhumane in that aspect," Mr. Parker said. "I'd rather go ahead and put it out of its misery."
The problem is hard to battle. In April, there were more than 300 "rodent harborage" violations reported by the city's Code Enforcement Department. The Port of New Orleans, one of the largest in the United States, draws in rodents with its water and heavy traffic.
One particular water-loving rodent has wreaked havoc on Louisiana's coastal marshes. Nutria, large semi-aquatic rodents, have had a nearly 15-year bounty of $5 per tail. The Louisiana Department of Wildlife and Fisheries reported that more than a thousand nutria were harvested in New Orleans from 2012 to 2013.
Recent research published in the American Journal of Tropical Medicine and Hygiene discovered that 3.5 percent of brown rats in New Orleans have tested positive for a strand of Seoul virus. The virus is a hantavirus which can cause a hemorragic fever in humans, it has been present in the city for about 25 years and scientists are still studying how it is spread.
Dr. Riegel said scientists and health officials will have a clearer understanding because of an extensive data collecting process that will take place over the next two years. An experienced researcher in entomology, nematology and related subjects for the city, she said she was unable to predict the intensity of the city's rat problem.
"I'm not in the world of projection. I'm in the world of data," she said. "We can speculate and we can think, but until that data comes out, I don't do that."
In the meantime, rodents continue to scurry around — and no one citizen is immune.
Take C. Hayne Rainey, communications manager for the mayor's office, who was asked about the city's rat problem. He said: "I think I have a house mouse around my house that I've been looking for."