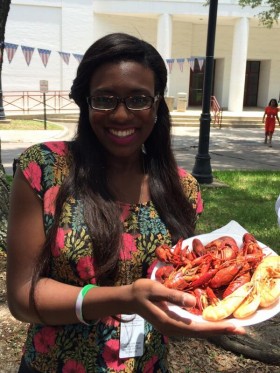 I always knew Louisiana was one of the largest seafood producers in the United States, but I had no idea I would be walking into a culinary paradise.
My gourmet journey started a week ago while I was waiting outside a seafood restaurant. Back where I live in New York City, I had heard of po' boys before but never had been close to one. No, my college dining hall doesn't count. My New Orleans journey wouldn't have been complete without trying a shrimp po' boy.
After about a 15-minute wait, I was assured I had made the right choice. The juicy shrimp in between the crisp bread instantly satisfied my stomach.
Next was the shrimp gumbo. Rice, shrimp and crab all in one broth. Then the fried catfish and tilapia.
And just when I thought I had seen it all.
Two days ago, our editors held a picnic for us. Two big boxes of crawfish and shrimp were piled on the table outside.
It was my first time eating crawfish. I remember asking another student, "How am I supposed to open this again?"
Then I set my eyes on the shrimp's eyes. Yes, you read that correctly. I had never seen shrimp prepared with its eyes and antennae intact.
This is dead, right? I just had to blink twice. Yes. It is dead and this was real. It was time to grub.
I'm not done yet, though.
Yesterday I ate crawfish étouffée over hot rice. I already knew the crawfish was tasty, but how would the stew taste?
Uncertain, I decided to scoop a small bowl of it. Once I sat down and ate it, I immediately went back for seconds. The étouffée even had crab inside to top it off.
I'm hoping to go to the New Orleans Oyster Festival next. Po' boys, catfish, oysters and shrimp all collected from the best seafood restaurants in the city.
Please sign me up.