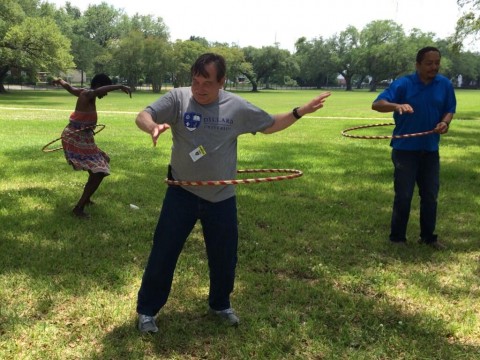 Our first week at the New York Times Student Journalism Institute in New Orleans was intense. We often worked 16-hour days in the newsroom, running around doing interviews and daily stories.
So when The New York Times staff invited us for a three-hour picnic on Memorial Day, I didn't hesitate to say yes. After working eight days straight, everyone deserved a break — even if it was only for a few hours.
The spread was very Louisiana: a boil, with fresh and spicy crawfish, shrimp, sausage, corn and potatoes.
But the food was just one highlight of the party.
One of the students, Rebecca Burton, brought her hula hoops, and she taught some hooping tricks to me and the other students. Even a couple of the faculty joined in.
Don Hecker, the director of the program, grabbed a hoop to try it for himself — a first for the institute, without a doubt. The hoop spun around his waist twice before falling to the ground.
Mark Raymond, a media professor at Dillard University, had a little more success with the hula hoop.
Another student, Tommie Collins III, challenged the editors to a game of Frisbee football, but using a flying disc in lieu of a traditional pigskin. The challenge was ignored by the institute staff, who seemed to prefer playing with Bryce, the baby daughter of Simone Oliver, the online fashion editor for The New York Times.
This slideshow requires JavaScript.
The first week at the institute came with numerous lessons — how to analyze data and organize it into a story, how to get the best quote from interview subjects, how to stay calm under deadline pressure.
But the best thing I'll take from New Orleans is the experience of meeting an amazing group of journalists, and the moments we laughed, danced and hula-hooped together.