A brown pickup truck sped down St. Claude Avenue and hit a silver Toyota pulling out from Delery Street on Sunday evening, witnesses said, flipping the car and instantly killing the driver.
The driver, Pam Stigler, 49, was turning westbound when the pickup truck hit. Witnesses said the truck's driver, who was taken to the hospital, was going well over the 30-mile-per-hour speed limit before the collision.
Witnesses said the impact caused the car to flip three times.
The accident took place in the Lower Ninth Ward near the Louisiana National Guard. Police officials in the neighborhood's Fifth District precinct said on Monday they could not release any information on the truck's driver or whether there were charges filed in the fatal incident.
A neighborhood resident, Michelle Jones, interviewed at the scene, said she heard the crash from inside her house. "I just came out of my bathroom and heard a boom," she said.
She added that it is common to see trucks speeding down the residential street, shaking her house as they go by. Ms. Jones's daughter, Alexis, said the accident brought back bad memories of when she lost her grandmother in a similar accident.
A man living two homes away from where the car landed, who did not want to give his name, said there had been eight car accidents on the block in the past year but this was the first death during that time.
"She flipped, and debris started flying towards my house," he said. "I almost got hit by a piece of tire. The guy had to be going close to 100 miles per hour."
He added that he thought the city ought to implement better traffic control.
"There are no stop signs on this avenue, no speed bumps" he said. "It's a reflection of the way politicians feel about us, but it's something that needs to be done."
Shortly before Ms. Stigler's sisters arrived at the scene, wind chimes rang lightly on the porch in front of the train tracks where the Toyota eventually landed. Wendy Stigler said she found out about the accident through a text message from a cousin.
"No one called," she said.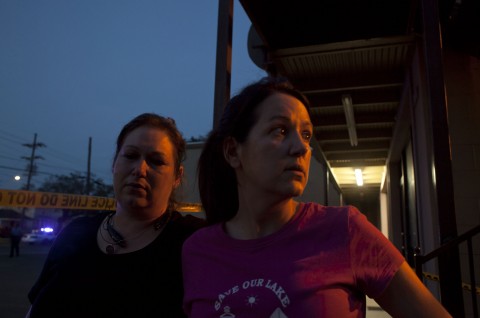 Ms. Stigler said they lost their mother in a car accident in 1988. Pam Stigler would have been 50 in July.
"They say he hit her so hard her eyes popped out of the sockets," Ms. Jones said. "It's making me want to cry. That could've been me, that could've been my kids."